July 2018 Special Feature
New Medicare Cards
If you have Medicare, you can protect your identity and help prevent health care fraud by guarding your Medicare card like you would a credit card.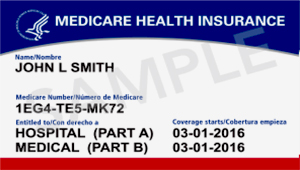 Identity theft from stolen Medicare numbers is becoming more common. Medicare is helping by removing Social Security numbers from Medicare cards and replacing them with a new, unique number for each person with Medicare. This will decrease your vulnerability to identity theft. Medicare is mailing new Medicare cards with the new numbers between April 2018 and April 2019.
What the New Medicare Cards Mean for You
The new Medicare number/card won't change Medicare benefits. If you have Medicare, you may start using your new Medicare card as soon as you receive it. After you receive your new card, destroy your old Medicare card.
The effective date of the new cards, like the old cards, is the date you were or are eligible for Medicare.
Tips for Protecting Yourself
Don't share or confirm your Medicare or Social Security number with anyone who contacts you by telephone, email, or in person, unless you've given them permission in advance. Medicare will NEVER contact you (unless you ask them to) to ask for your Medicare number or other personal information or to send you a new card. Medicare already has your information.

Don't ever let anyone borrow or pay to use your Medicare number.

There is no charge for your new card, so don't pay anyone to send it to you.

Review your Medicare Summary Notice (MSN) to be sure you and Medicare are only being charged for actual items and services received.

Your new Medicare card will be sent automatically by mail to the address on file with Social Security.



Visit your online my Social Security account to update your card or Call Social Security at 1-800-772-1213. TTY users can call 1-800-325-0778.
If someone calls you and asks for your Medicare number or other personal information, hang up and call 1-800-MEDICARE (1-800-633-4227) and your local Senior Medicare Patrol (SMP). To learn more about protecting yourself from identity theft and health care fraud, visit www.Medicare.gov/fraud or contact your local SMP.
https://www.smpresource.org/Content/Medicare-Fraud/New-Medicare-Cards.aspx